Civic Organizations
Keep Nocona Beautiful
KNB operates with the cooperation of the City of Nocona in improving property appearance in Nocona and the surrounding area. Volunteer members perform tasks to assist the City of Nocona, such as cleaning out storm drains and gutters in the downtown area, picking up trash and litter, hauling off brush and trash, cleaning up highway medians and downtown flowerbeds, etc. Through their efforts, recycling and waste disposal programs have been developed to serve the area, greatly improving the community and its appearance.
For more information, call Syd Nowell: (940) 841-3258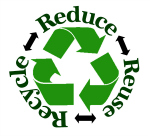 KNB volunteers also man the city's recycle bin at 1197 Airport Road, which is open every Saturday from 8am to Noon, unless the weather is bad. To find out whether or not the bin is open, check KNB's facebook page by clicking the recycle symbol to the left.
---
Lions Club
An active service club organization performing volunteer work for many different kinds of community projects - including caring for the environment, feeding the hungry and aiding seniors and the disabled. Also part of a global service network, the Lions Club conducts vision screenings, equips hospitals and clinics, distributes medicine and raises awareness of eye disease with the goal of preventing blindness. Community projects often support local children and schools through scholarships, recreation and mentoring.
Meetings each Wednesday at noon at the NISD Administration Building in downtown Nocona.
---
Rotary Club
The Rotary Club is a community-based service organization bringing together businesses and professional leaders to provide service to the community.
Meeting each Tuesday at 12:05pm at 105 E. Elm Street - Nocona
Phone: (940) 825-3351