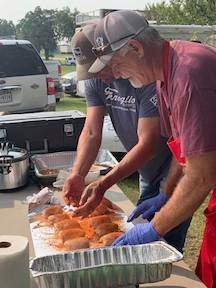 Join in on the fun at the 8th Annual Wheels & Grills Cook-off September 16 & 17, 2022 presented by Horton Classic Car Museum in Nocona, Texas.
Wheels & Grills Cook-off is an annual two-day cook-off competition. This Barbecue Battle includes multiple categories of competition including the Great Steak cook-off, chicken, brisket and rib cook-off to salsa, stuffed jalapenos, and Bloody Mary competition and more. Competitors battle it out for the chance to be crowned top High Point Cooker earning $2000 in prize money.
This year's big raffle item is a Blackstone Grill. Tickets are $10 each and can be purchased at the Horton Classic Car Museum or the weekend of the cookoff. The proceeds will benefit Nocona Lucky Paws Animal Shelter. Drawing will be held at awards ceremony on Saturday, Sept. 17. 

Come camp, cook, and enjoy some of the best company in Texas! If you want to compete but don't have the culinary skills, there is a cornhole tournament, a classic car show, and MORE!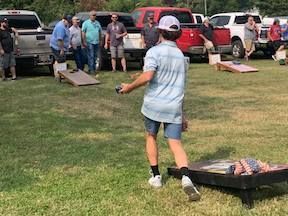 The 4th Annual Ray Walker Memorial Cornhole Tournament is on Saturday, Sept. 17 beginning at 11 am. This double elimination contest is $50 per team with prize money going to the top two teams. All remaining proceeds go to area scholarships. Registration is between 9 – 10 am on day of contest.
The Nocona Gas Junkies Car Show
The Nocona Gas Junkies are putting on a car show during this event, Saturday, Sept 17th. $20 entry fee. Registration takes place between 9 – 11 am; judging begins at 11 am and awards at 2 pm. Awards will be given for the Top 10 Overall and Best of Show. Don't miss out on the opportunity to showcase your hot rods, trucks, motorcycles, and more.
Come and experience 'cue, cornhole, cars and small-town fun.
Head to their FB page for rules, forms and more.
Location: Walnut & Main Street