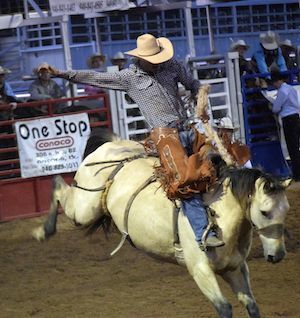 71st Annual Chisholm Trail Rodeo - May 12 & 13, 2023
Come experience two nights of a buckin' good time at the 71ST Chisholm Trail Rodeo located at the Chisholm Trail Rodeo Arena on Highway 175. Sanctioned by the UPRA and TCRA, this rodeo has excitement for all ages. 
Mutton bustin', grand entry riders, bareback riding, saddle bronc riding, steer wrestling, team and breakaway roping, barrel racing, and bull riding all make for an exciting and fun event. 
In 2019, this rodeo was ranked 17th out of 433 UPRA rodeos in money paid out to contestants.
2020 saw the rodeo go from two to three nights. This expansion resulted in the 2nd highest payout ($97,490) to participants out of 433 UPRA events in Texas.
Tickets available at various locations throughout Nocona.