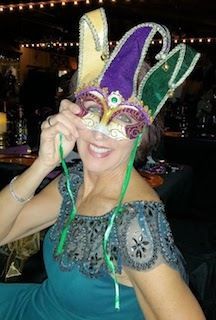 The 12th annual Mardi Gras Nocona Style Celebration brings New Orleans-size fun for the entire family. It takes place February 25th and 26th, 2022, with several events happening in the days leading up to the official Friday night kickoff. The city of Nocona comes alive with green, gold, and purple for an entire week beginning February 19, reminding people just why it was named "One of the Most Fun Small Towns in America" by Rand McNally.

The festivities kick off on Saturday, February 19th with the Mardi Gras Ball. This gala event comes alive with fancy costumes, masks, fabulous Cajun style meal and the presentation of Mardi Gras King & Queen! Party into the night with Kyle Levels and The Krewers Band. Limited seating available so call the Chamber (940) 825-3626 now for tickets.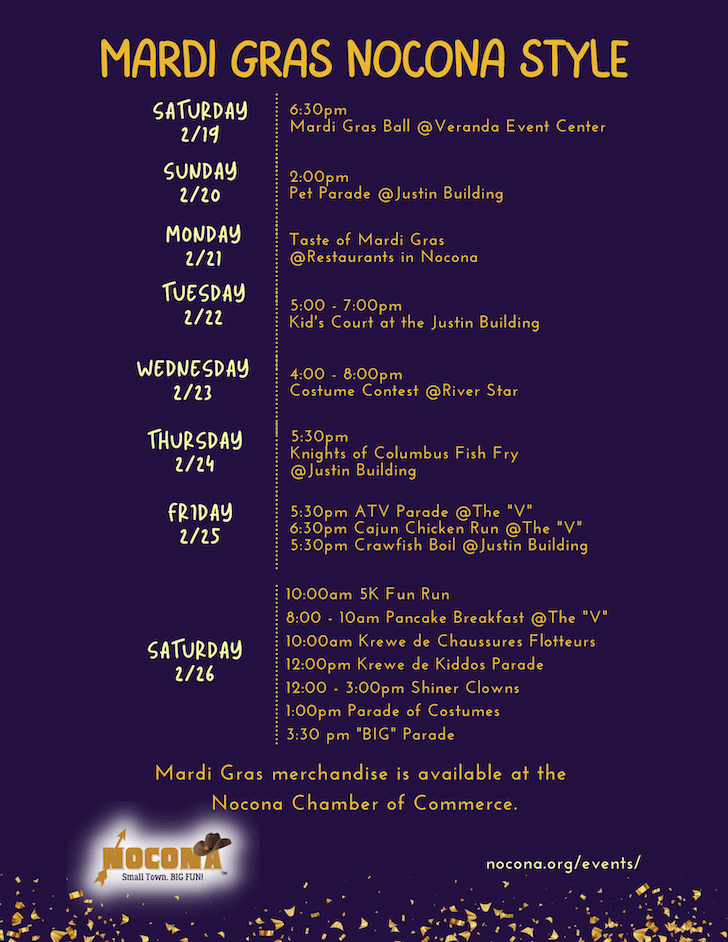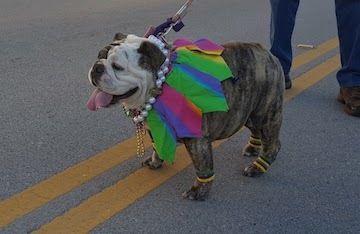 Sunday is the popular Krewe de Barkus Pooch Parade! Its goal is to bring awareness to pet rescue and adoption and proceeds of the parade go to Nocona Lucky Paws Animal Shelter. This dog-friendly event parades through downtown Nocona. Parade members, their pups and parade-goers are encouraged to dress up to win the coveted "Best Dressed". 
Monday is Taste of Mardi Gras Nocona Style. Several local restaurants will be serving their interpretation of Mardi Gras food.
Tuesday hosts a new kid-friendly activity – Kid's Court from 5 pm to 7 pm at the Justin Building. This FUN night kicks off with a meal followed by bead making, decorating masks, coloring sheet, and much more!
Wednesday is a new activity at River Star Casino in Terral, Oklahoma - Mardi Gras Nocona Style Costume Contest. The contest starts at 4:00 pm and final voting ends at 8:00 pm. 
Thursday February 24th is the annual Knights of Columbus Fish Fry. The dinner starts at 5:30 pm in the Justin Building located in historical downtown Nocona.

Friday, February 25th is the Krewe de Couyons ATV parade, where 4-wheelers are decorated to the hilt in green, gold, and purple, cruising downtown Clay Street throwing beads and candy to the crowd. After the ATV parade is over, the fast-paced activity of the Cajun Chicken Run followed by a delicious Crawfish Boil at the Justin Building.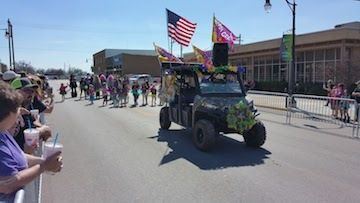 These festivities all culminate in one big Mardi Gras parade on Saturday, February 26th. The day starts off with a Pancake Breakfast at The "V", followed by the 5K Run sponsored by the Nocona High School Band and a Shoebox parade, Children's parade, parade of costumes and the BIG parade starting at 3:30. This parade will highlight floats, cars, clowns, motorcycle, dancers, bands, horse clubs and more. Bring your kids to enjoy the traditional spectacle of Mardi Gras, Nocona Style.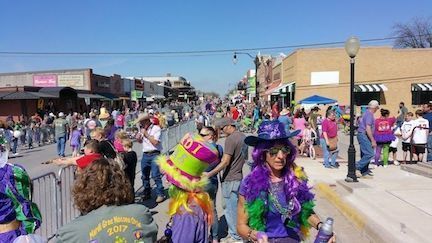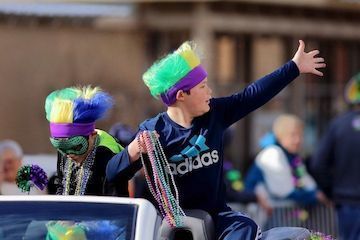 For more information, go to the Community Calendar at the top of the page or to the Mardi Gras Nocona Style Facebook Page.