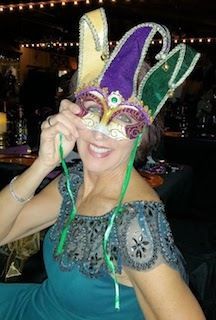 2023 Mardi Gras Nocona Style
February 11 - 18, 2023!
Nocona, TX is celebrating 13 years of Mardi Gras Nocona Style! This celebration brings New Orleans-size fun for the entire family. The city of Nocona comes alive with green, gold, and purple for an entire week beginning February 11 and ending with the BIG parade day on Saturday, February 18th.
The Mardi Gras Ball, February 11, kicks off the weeklong celebration with fancy costumes, masks, a fabulous Cajun style meal and the presentation of Mardi Gras King & Queen! The Mardi Gras Ball Committee is excited to announce a new musical line-up starring the Tejas Brothers! Tejas Brothers is the original Tex-Mex Honky Tonk band from Ft. Worth, Texas. Founded in 2006, the band has been recognized as one of the best live acts in the Lone Star State, with fans often traveling hundreds of miles to catch a live performance. They specialize in recording and performing original American/Country/Folk music, influenced by Country, Rock, Blues and Tex-Mex.
Sunday, February 12th is the popular Krewe de Barkus Pooch Parade! Its goal is to bring awareness to pet rescue and adoption and proceeds of the parade go to Nocona Lucky Paws Animal Shelter. This dog-friendly event parades through the downtown park. Parade members, their pups and parade-goers are encouraged to dress up to win the coveted "Best Dressed".  No entry fee (donations accepted). Sign-up at Mary Beckman Davis Park on Clay Street. Registration begins @ 1:30 pm with judging and parade @ 2 pm.
Monday, February 13th is Taste of Mardi Gras Nocona Style. Come dine/sip at one of the participating Nocona restaurants as they transform their menu, for one day, adding a little 'Nawlins' style to Nocona.
               Dairy Queen, Fenoglio BBQ, Orange Giraffe, Sonic, The V, Tres Ninos
Tuesday, February 14th Come and get some steaming hot Gumbo and enjoy some live music at The Justin Building beginning @ 5:00 pm.
Wednesday, February 15th is a new activity at Riverstar Casino in Terral, Oklahoma - Mardi Gras Nocona Style Costume Contest. The contest starts @ 4:00 pm and final voting ends at 8:00 pm. 
Thursday February 16th hosts our 2nd Annual Kid's Court from 5pm to 7pm at the Justin Building. This FUN night kicks off with a meal followed by bead making, coloring sheets, and much more!

Friday, February 17th is the Krewe de Couyons ATV parade, where 4-wheelers are decorated to the hilt in green, gold, and purple, cruising downtown Clay Street throwing beads and candy to the crowd. Line-up at the V beginning @ 4:30pm; parade begins @ 5pm.
After the ATV parade is over around 5:30 pm, enjoy a delicious Nocona Masonic Lodge Crawfish Boil at the Justin Building.
These festivities all culminate in one big Mardi Gras parade on Saturday, February 18th. The day starts off with a Pancake Breakfast at The "V", followed by the 5K Run sponsored by the Nocona High School Band and a Shoebox parade, Children's parade, and the BIG parade starting at 3:30. This parade will highlight floats, cars, clowns, motorcycle, dancers, bands, horse clubs and more. Bring your kids to enjoy the traditional spectacle of Mardi Gras, Nocona Style.
Right after the parade, enjoy the annual Knights of Columbus Fish Fry. The dinner starts at 5:0 pm in the Justin Building located in historical downtown Nocona.
This family-friendly event reminds everyone why Nocona was named
"One of the Most Fun Small Towns in America" by Rand McNally.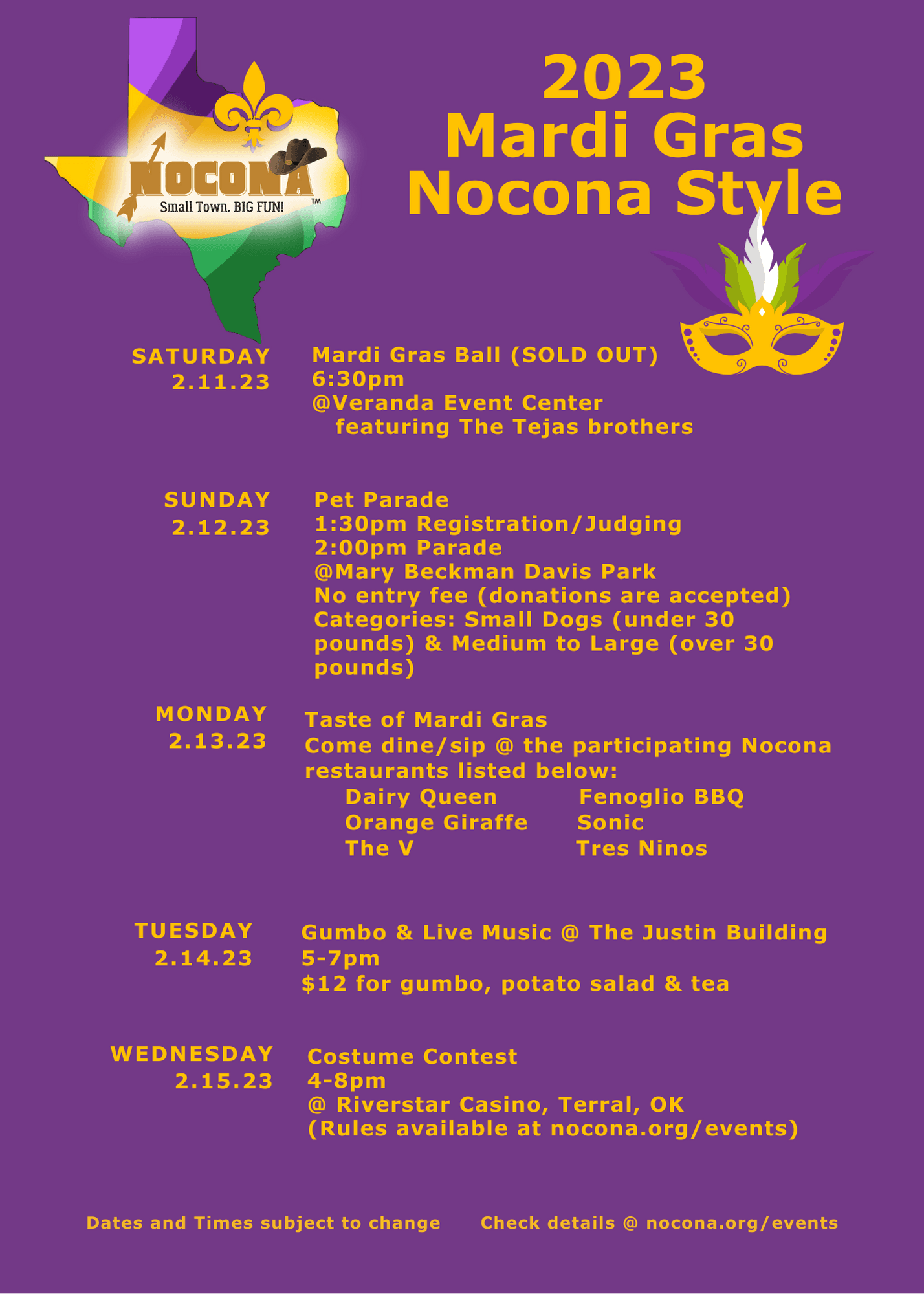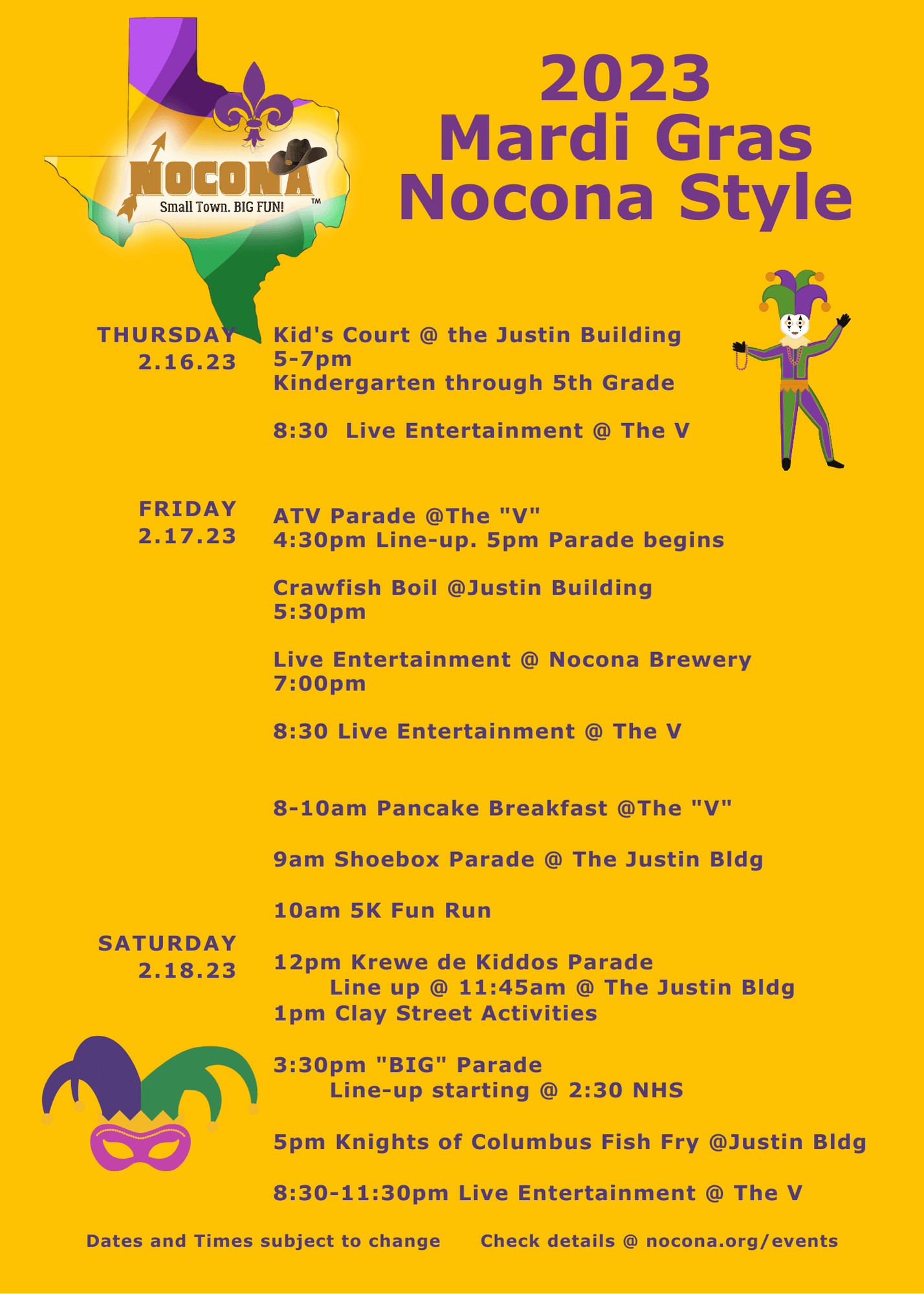 Keep up-to-date by following our Mardi Gras page Mardi Gras Nocona Style Facebook Page.