Nocona and the surrounding area present unique live, intimate music sessions. Take center stage while being immersed in a world of music Nocona Style.
Nocona
---
Jammin' at the Justin

On the fourth Saturday of every month, this monthly jam is open to all artists, no matter their music genre. Bring your dancing shoes, your dinner, and your drink of choice. It is free and kid-friendly. Monthly tips are donated to local non-profit organizations.

Nocona Nights was born out of the love for Texas music. The concept was to bring together the community through music. It took several years to get it right, but now Nocona Nights is one of the hottest musical tickets in North Texas. This Texas music series has featured popular Texas artists such as Tommy Alverson and Ray Wylie Hubbard. These intimate events (four to six a year) feature a dinner followed by some awesome singer-songwriters from all over the United States.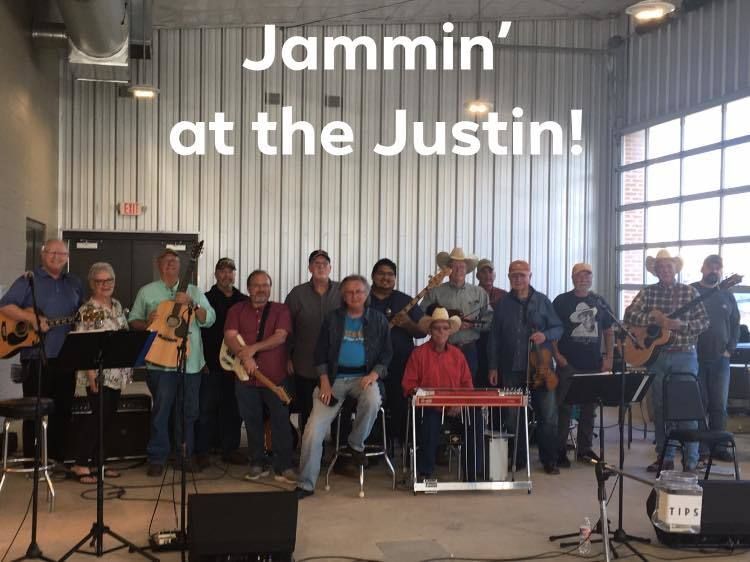 Surrounding Areas
---
Luckenbach will be wondering where their crowd went. The crowd is here at Red River Station BBQ in Saint Jo and all the best live venue artists in Texas! With its unique blend of Texas BBQ, music, bands, and outdoor venue, it is the best around.

Solo acoustic performances are held inside beginning in October, and their live music series featuring outdoor performances each weekend are from April through October. The restaurant is open Thursday and Fridays 5:00 – 9:00 pm and Saturdays from 11:00 am – 12:00 midnight. Follow them on Facebook at RedRiverStationBBQ.

Windmill Grill

The Windmill Grill in Saint Jo quickly gained a name for "best hamburger – ever!" This outrageously fun venue is the place of legends. It's simple, cash only. Great burgers and music on most weekends. The Windmill Grill is expanding, and you will not want to miss the new venue that will keep the music and food going year-round. Follow them on Facebook @windmillgrillsj