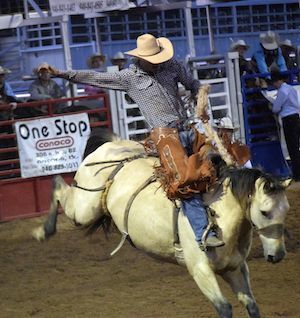 The Chisholm Trail Ranch Rodeo has been an annual weekend event since 1952. Two nights of buckin' good times at the Chisholm Trail Rodeo Arena. The big parade is held on Saturday afternoon winding through downtown Nocona, honoring all of the participants and their animals.
Mutton bustin', grand entry riders, bareback riding, saddle bronc riding, steer wrestling, team and break away roping, barrel racing, and bull riding all make for an exciting and fun event. 
In 2019, this rodeo was ranked 17th out of 433 UPRA rodeos in money paid out to contestants.
Tickets available at various locations throughout Nocona.