Arché Live Music and Burgers For Father's Day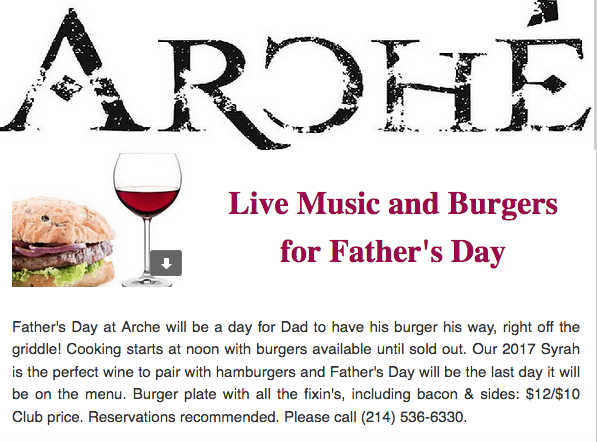 Father's Day at Arche will be a day for Dad to have his burger his way, right off the griddle! Cooking starts at noon with burgers available until sold out. Our 2017 Syrah is the perfect wine to pair with hamburgers and Father's Day will be the last day it will be on the menu. Burger plate with all the fixin's, including bacon & sides: $12/$10 Club price. Reservations recommended. Please call (214) 536-6330.
Live, on the patio, from 1-4pm. Peyton Stilling is an award winning young singer/songwriter from Dallas. Her vibe is groovy, contemplative, raw, and real
Please note our guidelines for serving guests at Arche:
Reservations are recommended for inside seating on hot days.
Reservations are required for groups larger than 6 people for inside or outside seating.
We are accepting groups no larger than 10 people including children. Children are required to remain at the table with their parents.
Tables may not be moved or rearranged.
All service is conducted at tables. No bar service.
Guests may bring their own food but are responsible for taking their trash with them.