Explore history at Montague County Museums!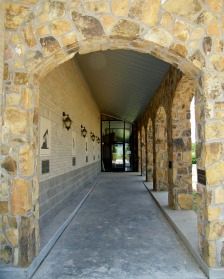 Tales 'n' Trails Museum
Nocona's modern Tales 'N' Trails Museum offers a vibrant & vivid historic picture of the North Central Texas area through its vast collection of artifacts and photographs.
An award-winning film narrated by Red Steagall highlights the five main areas of focus: The Joe Benton Native American exhibit, The Leather Industry (Nocona Boots, Justin Boots, Dell Motley, Nokona Ball Gloves, etc), The Oil & Gas Industry, Agriculture, and Our Western Heritage (Chisholm Trail).
The museum offers help with genealogical research, has a collection of thousands of local obituaries and an ongoing project collecting information on businesses throughout Nocona's history.
A gift shop offers historical books from the Montague County Historical Society as well as items from local artisans.
Visit the museum at 1522 E. Hwy. 82 in Nocona or at www.talesntrails.org.
---