Live Entertainment
Nocona Nights
One of the hottest tickets in Montague County is to Nocona Nights, a first-class showcase for Texas and Oklahoma music held at Daddy Sam's Saloon in downtown Nocona. (www.daddysamssaloon.com)
This casual laid-back evening of music features a great meal often catered by a local restaurant, followed by some fantastic music courtesy of Nocona Nights, which hosts between eight and ten performances a year, from September through May.
Tickets are available through the Nocona Chamber of Commerce (www.noconachamber.org)
---
"The V"

Nocona's VFW Post 8558, also known as "The V," is open to the public and hosts live music and dances on a regular basis.
100 Baylor Street: (940) 825-4074
---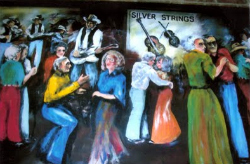 Silver Strings Entertainment
Experience the best in Country & Western dancing and music every Monday and Saturday night from 7:00pm until 10:00pm. Dance to live music in the country ballroom that is the best facility of its kind with the largest hardwood floor in North Texas.
Tickets are available at the door: 500 N Smythe Street in Bowie