Lake Nocona
Eight miles Northeast of the City of FM2634 lies 1,323 acre Lake Nocona. The lake has a maximum depth of eighty feet. Construction of the dam for the reservoir began in September 1959 and was completed in October 1960. Lake Nocona was constructed for municipal, industrial and mining purposes. It is now maintained by the City of Nocona as a recreational area for all Montague County residents. For more information, call us at (940) 825-3282.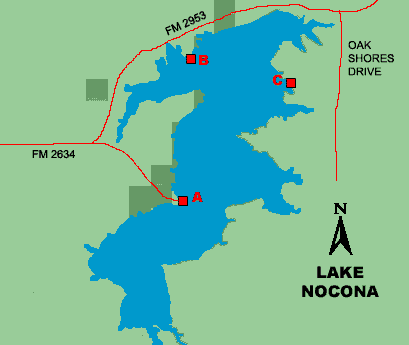 A- Weldon Robb Park
Located at mid-lake at the end of FM 2634. From Nocona, take FM 103 north and turn east on 2634.
B-Joe Benton Park
Located just west of the dam off FM 2953. From Nocona, take FM 103 north, turn west on FM 2634 and then north on 2953.
C- Boone Park
Located on the east shore off Oak Shores Drive. Turn south from FM 2953.
---
Check Out More Information on Good Times Adventures By Clicking Here!
What can you do there?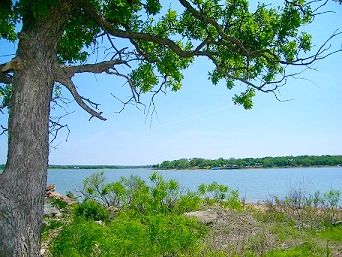 Lake Nocona also offers many recreational opportunities! Three public parks are scattered around the shores of Lake Nocona: Weldon Robb Park, Joe Benton Park and Boone Park. All three parks feature boat ramps, restrooms, parking, picnic and camping areas. Weldon Robb Park and Joe Benton Park also have courtesy docks and Joe Benton Park offers handicap access.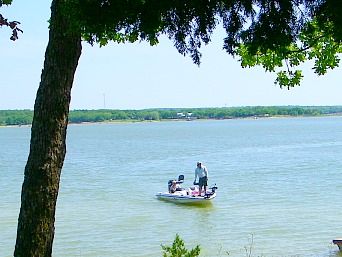 Gone Fishin'
The lake provides an ideal fishing environment for many types of fish. Angling opportunities are excellent for largemouth bass, catfish and crappie. Fisherman also have a good chance of catching white bass, hybird striped bass and sunfish. Lake Nocona is classified as the fourth-best bass fishing lake in Texas!
Lake Nocona is maintained by the North Montague County Water Supply District, which can be contacted at (940) 825-3282