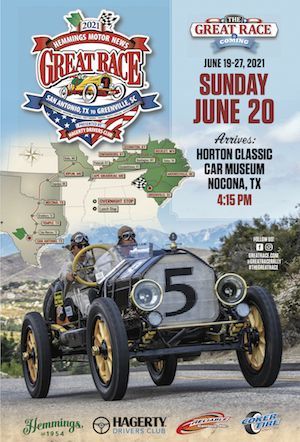 The Great Race is coming through Nocona.
Nocona has been added as a promotional stop on the 2021 Great Race Rally. This makes a great addition to our annual Cruisin' Nocona event. This weekend will be full of classic cars parading through the North Texas Hill Country, car show, live music, and family fun activities all weekend long!
What is the Great Race?
The Great Race is an antique, vintage, and collector car competitive controlled-speed endurance road rally on public highways. It is not a test of top speed. It is a test of a driver/navigator teams' ability to follow precise course instructions and the cars (and teams) ability to endure on a cross-country trip. The course instructions require the competing teams to drive at or below the posted speed limits at all times.  GPS or computers are not permitted, and odometers are taped over. This is a test of human mental agility and endurance as well as classic car endurance, rather than programming capability. 
Why was Nocona selected as a stop?
1. "The Classic Car Capital of Texas"
Nocona, which is known as the Classic Car Capital of Texas, is also home to the Horton Classic Car Museum . This classic car museum is an incredible compilation of cars, some of which are the most sought out antique automobiles in the world. Explore three massive building and find automobiles with far out stories. The Corvette collection is something worth seeing – every model from 1953 to 1973 all in one room – very rare collection.
2. "One of the Top 5 Most Fun Small Towns in America – Rand McNally
There's always something happening in Nocona. From our huge Mardi Gras celebration in February, our Chisholm Trail Rodeo in June, Wheels & Grills BBQ cookoff in September, Halloween, and Christmas fun. Not to mention our Gas Junkies Car Club that puts on car shows and drag races throughout the year. Small Town. Big Fun.
3. Poker Cruise
Approximately 100 – 120 classic cars/motorcycles will cruise the hill country with stops along the way including lunch at winery.
4. Community Car Shows
Experience the sights and sounds of Nocona as you wait for the cars to roll through the North Texas Hill Country. Nocona has lots to do and see and places to stay.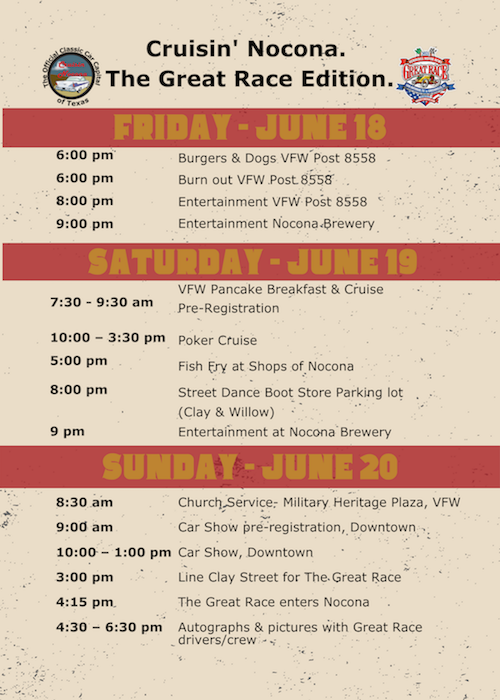 Why Exhibit?
1. Anticipated attendance: 5,000 + over the weekend period
2. Event is free
3. Unique event comes through Texas every 10 years
7. National advertising to promote event
8. Spectators from around the world
9. Inexpensive way to sell your product/s
Great Sponsorship Opportunities:
Sign Up For the Poker Cruise Here!
More Information:
Want more information about The Great Race?