Big, exciting things are happening in Nocona and Montague County. We have many future attractions in the works that will highlight the different aspects of our rich and unique history.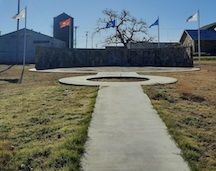 Nocona Military Heritage Plaza
Located in Nocona Texas, Nocona Military Heritage Plaza honors our Service Members in every Branch of our armed forces. It is located beside the Nocona Veterans of Foreign Wars Post No. 8558.
The plaza will include static displays of armor, aircraft and different artifacts from each branch of the service. It will include individual sections designated for each war beginning with the Civil War and including Operation Enduring Freedom-Afghanistan. A ceremonial terrace, an open-air chapel and an eternal flame will be featured.
Nocona Sports Complex and Vocational/Technical School
The Sports Complex is planned to house four baseball fields, four softball fields, potentially a practice football field and a couple of soccer fields. It will be located on the outskirts of town and will be used by Nocona ISD and the community. Money is still be raised and the plan is to break ground in 2023.