Nocona Public Library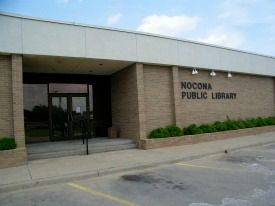 Today's libraries are so much more to a community than just a place to check out books. Computers and genealogy, children's story-time and book clubs, Nocona's library is evolving to meet its customer's needs. Nocona Public Library has all these resources and much, much more.
The library's current collection consists of more than 25,000 items.  The book collections consist of fiction and non-fiction for all ages. Audio books and audio-visual media are also available for check out, along with an assortment of periodicals and magazines on several topics. The library maintains a large genealogy section, and reference items include many books that focus on local and county history.
The library is located at 10 Cooke Street and is open from 9:00 am until 5:30 pm Monday through Friday. Questions can be directed to the head librarian: (940) 825-6373.