Coronavirus Updates Below!
---
Want To Know More About the Coronavirus (COVID-19)? Click the Picture Below!
Rob and Cole are joined by Dr. Chance Dingler from Nocona General Hospital to talk about Covid-19, community preparedness, and what we can do to help in the coming days. 
Nocona Medical Clinic: (940) 825-3333
Nocona General Hospital: (940) 825-3235
Secondhand Mouse - https://www.youtube.com/channel/UCtbrjmQ0yj5Pk1KEIHOpRIA
Rob4Films - https://www.youtube.com/channel/UCW0OjCx3UXEV3-6Rz9Pjt4Q
WANT THE VIDEO TO THIS PODCAST? CLICK HERE!
---
Order of the County Judge from 03/26/2020 Can Be Found Here
05/01/2020
County Judge Rick Lewis said he shipped the confirmation documentation off to the Texas Department of State Health Services, "so we are 50% capacity."
"Half the state says you have to wait for the state to approve. Hald the state says you don't. We've got it sent off," he stated advising local resutarants and retail businesses that the county does qualify for 50th capacity.
---
---
ALL RESTAURANTS- Dining Rooms Closed and Take Out Only!
AUSTIN (KFDX/KJTL) — Governor Abbott announced in a press conference Thursday afternoon that he has issued executive order authorized by CH.418 which adopts standards set by the President of the United States and CDC.
Everyone in Texas shall avoid social gathering in groups of no more than 10 people, avoid bars, restaurants, food courts and gyms.
Texas restaurants and bars will close dine-in facilities. Drive-thru, pick up and delivery is allowed.
This order is effective at 12 a.m. Saturday, March 21, 2020, through April 3, 2020.
---
---
The NHCC board met Tuesday night and prayerfully determined that it would be best for the health of our congregation to cancel morning services, (including all ministries and gatherings of the church) for the next two weeks. (This aligns us with the requests of the President and his Public Health Team) Our board will meet again on March 30th to determine future plans.
In addition many care services in our area have been temporarily cancelled as well, so if anyone needs help getting groceries, picking up medicine or other needs they can call the church office and we will be glad to assist with this.
Please pray for our nation and the world in this unprecedented time.
"God is our refuge and strength, and a very present help in times of trouble" (Psalm 46:1) Please speak healing scriptures over this situation. I truly believe God will soon turn the tide and restore.
Looking to THE HEALER
Pastor Ron
---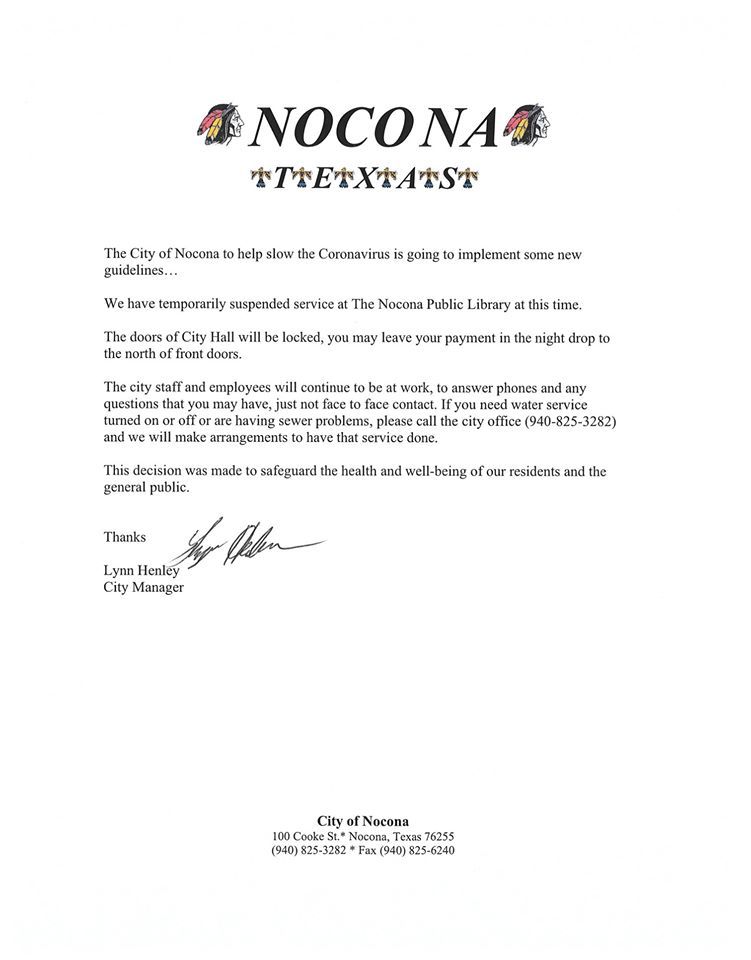 ---
Nocona Chisholm Trail Youth Rodeo Events
"OUTDOOR SPORTS ARE ALLOWED TO RESUME SO LONG AS NO MORE THAN FOUR PARTICIPANTS ARE PLAYING TOGETHER AT ONE TIME, SO LONG AS THE NECESSARY PRECAUTIONS ARE MAINTAINED TO REDUCE THE TRANSMISSION OF COVID-19 AND TO MINIMIZE IN-PERSON CONTACT WITH PEOPLE WHO ARE NOT IN THE SAME HOUSEHOLD."
WITH THE NEW ORDERS, THE CITY OF NOCONA WILL NOT BE OPENING UP THE RODEO ARENA FOR RODEOS AT THIS TIME. WE WILL READDRESS WHEN THE GOVERNOR RELEASES PHASE 2 ON MAY 18, 2020. THE HEALTH AND SAFETY OF OUR COMMUNITY IS VERY IMPORTANT TO US AND WE PLAN ON DOING EVERYTHING WE CAN TO KEEP YOU SAFE.
THANK YOU FOR YOUR UNDERSTANDING AND COOPERATION!
---
Nocona Senior Citizen's Center
The senior center is still delivering Meals on wheels, but the inside dining room is closed to the public for now. We are using this time to disinfect everything and make sure our seniors have a sanitized place to come back too. We are still doing pick ups for the public. If you would like a meal please call 940-825-3148 before 10 am to place your order. Your food will be brought to the door for you. Thank you for understanding that we need to keep our seniors safe. We can always use extra drivers and hoppers for meals on wheels delivery. If you are interested please call the number above and speak to Robbie. Thank you.
---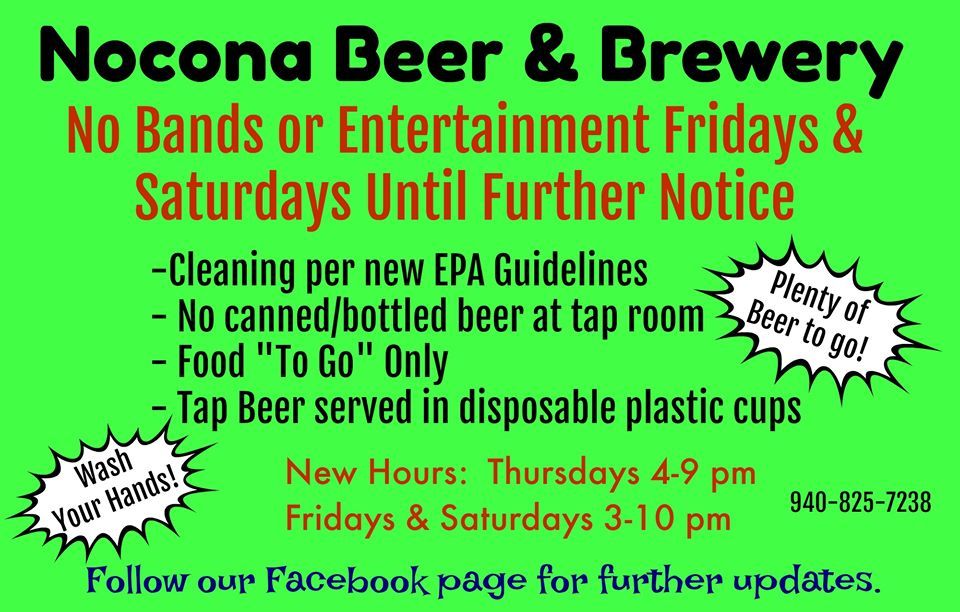 ---
Nocona First United Methodist Church
Hey friends. Hope y'all are well today. This weather makes you want to sleep.
Given the direction that things seem to be going, I think it's time we make the difficult decision to move to an online worship only. Every doctor that I have spoken to is recommending this, in addition to the cdc and other authorities.
I have been in communication with our neighbor churches and many are moving this way too.
This is not because we are in a panic about the situation, rather we are being proactive to keep ourselves and each other healthy.
I pray that you'll join us on FaceBook live Sunday at 11. Tell your friends. Maybe this is a way to eventually bring them into the church. I will keep you posted as things change.
Love to all!
Pastor Donny
---
May 1, 2020 we are celebrating the Relaunch of Tres Ninos! Our dining room will be open to fifty percent capacity. We will be taking every precaution to ensure everyone is safe to enjoy Tres Ninos legendary food and service! Thank you for supporting us throughout this uncertain time! Today we also celebrate our 14th anniversary! Thank you to this wonderful community for supporting us through the good, the bad, and the ugly! May God continue to bless us all! Guy Hill
---
Beginning today the Tales 'N' Trails Museum will be closed to the public. The staff is still there -- we always have projects to work upon. We are answering the phones. And the Nocona Chamber of Commerce and Nocona Economic Development Corporation (who co-occupy the buidling with the museum) are still at work.
But in light of the recommendations from the Centers for Disease Control, Gov. Abbott and President Trump, and after evaluating the logistical issues in trying to clean all 'touch surfaces' in an interactive museum, we are taking these steps as our small step to try and retard the spread of the Covid-19 virus.
In the interim, explore our website.
Thank you,
Tracy Mesler
President TNT Board of Directors
---
---
Closed For The Time Being.
---
April 17 at 6:23 PM ·
The plan is to once again being open daily starting next week. Hoping to have some fresh flowers in Wednesday afternoon. My wholesale supplier in Wichita Falls will not be re-opening, but after making some phone calls today, a very reputable supplier out of Fort Worth that has been in business since 1947 has agreed to start making deliveries to me 3 days a week as needed. Variety and quality will be excellent and I am extremely excited about this new fresh flower source. Sometimes things just work out for the better. Thanks to everyone being patient during my down time and be safe!!
---
04/30/2020 at 10:20 AM ·
We are OPEN!!
•
Our hours are Tuesday-Saturday 10am-6pm!
•
Come see us for all your boot needs
 
---
We Are Now Open For Business as of April 6th!
Our New Business hours are 10:00 am - 8:00 pm Monday thru Saturday!
---
Well guys, it is with a heavy heart that I write this post. I kind of had a feeling it would come to this, although I hoped it wouldn't.
On March 22nd Governor Greg Abbott signed an Executive Order to expand hospital bed capacity as the state responds to the COVID-19 virus. Part of this verbiage included the language that healthcare personnel and health care facilities are to suspend any medical treatment that is not "immediately medically necessary to correct a serious medical condition of a patient who without immediate performance of the surgery or procedure would be at risk for
serious adverse medical consequences or death."
There had been some contention in the dental community of exactly what that meant for dental. I just got word from a source at the TDA that removed any doubt from my mind. Dental is indeed included in this and we as dentists are being threatened with fines and jail time if found in non-compliance. While the TDA has not come out with an official response to Gov. Abbott's EO, I anticipate that within the next 24 hours.
My concern is with you the patients, your families, my staff here at Nocona Dental, the wonderful North Texas community, and of course, my family. While I am sure we will all get through this, I can't pretend to know the timeline of it all. All I can do at this point is to follow what our elected officials have ordered.
So with a heavy heart, Nocona Dental will close its doors for all routine treatment until at least April 21st. Our phone number, 940.825.6842, will forward to my mobile phone. If you should have any emergency or you think treatment is necessary, I will do my best to evaluate you over the phone, and then call up my staff to see you in the office if need be.
Pray this bizarre time in all of our lives passes quickly.
- Dr. Eric Fisher
"For I know the plans I have for you," declares the LORD, "plans to prosper you and not to harm you, plans to give you hope and a future."
---
Starting tomorrow Thursday, March 26th we will be transitioning to curbside only. We know this may be inconvenient to some but we would like to protect our customers and ourselves the best we can. We ask that when you come to pick up your to-go order that you give us a call and let us know you are outside. We will then bring your food and drinks to you.
Thank you all for your understanding & support in this trying time. May God bless you & stay safe our friends!
---
---
Will be open Thursday 04/02/2020 from 9am- 3:00pm
Drive Through ONLY
No Drop Offs
Stay in your car!
We will be using the front and side door of the building for clients to get their food.
---
Due to the recent pandemic we are not doing vehicle state inspections until further notice! Sorry for any inconvenience but we are still open for business with a full time mechanic on duty Mon-Friday 8-5 and we are still open on Saturdays from 8-12 swing on by and let us keep your wheels turning! Thank you all for yalls support and business!
---
Due to everything that's going on with C.O.V.I.D-19 and me having a 8 mounth old at home I believe that keeping her safe is my number 1 priority. So rodens barbershop will be closed until April 2 or til I believe it is ok for me to come back to work. I am truly sorry to close but I believe this is the right thing to do. Thank you all.
---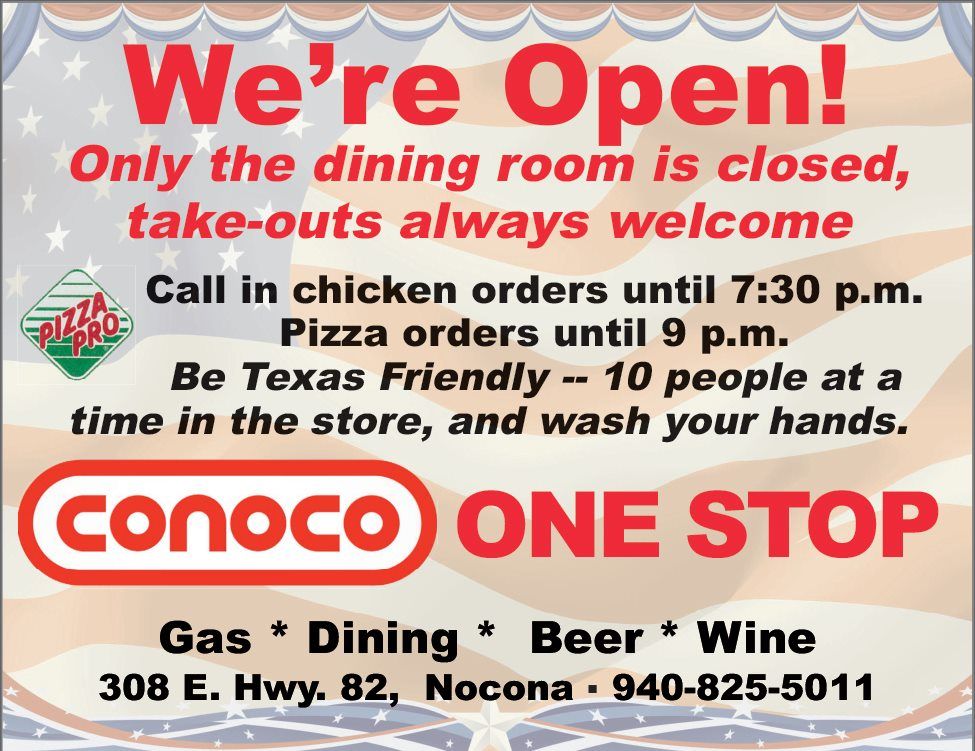 ---
Governor Abbott has mandated all bars and dine-in restaurants closed as of Saturday, March 21 @12am thru April 3rd. The VFW will be closing tomorrow, Friday, at midnight until further notice.
---
First Republic Investment Corp.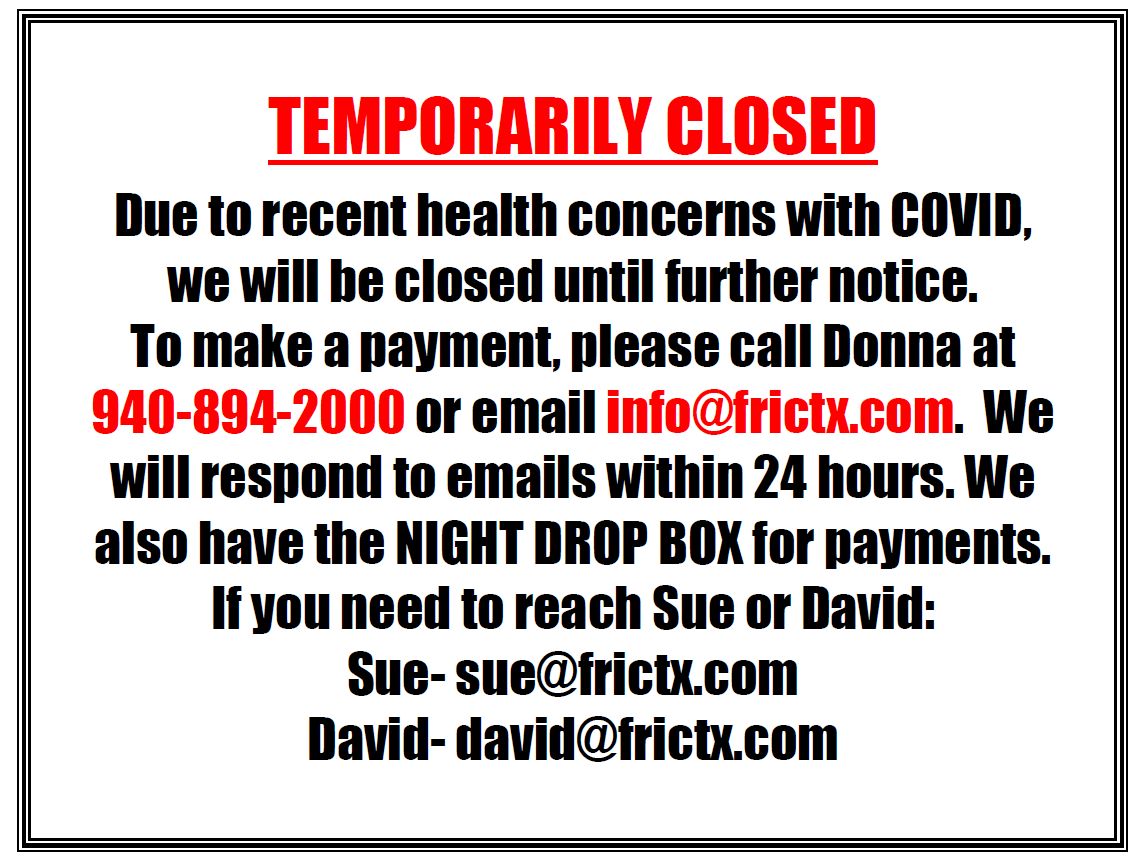 ---
Greetings church,
Central Christian Church (Disciples of Christ)
I pray you all are well and staying in away from germs, bugs and viruses.
In light of the continuing developments related to COVID-19 and recommendations to cancel gatherings with more than 10 people, Central Christian Church, Nocona will not have ANY on campus activities through Palm Sunday, April 5th. At that time, we will consider if we can/should meet for Easter Sunday. This is not a decision made out of fear, but out of love for one another and our community. We want everyone to be safe and well, and are committed to do what it takes to help make that happen.
We WILL gather online each Sunday for Bible Study at 10am and Worship at 11am via a platform called Zoom. It allows us to come together in a virtual meeting where we can see/hear each other and have some interaction. (I will also record the sermon later on Facebook Live as usual.)
This is not a perfect set up and there may be bugs to work out the first week. I will hold a practice session for Zoom tomorrow night at 7pm. I will send info about it in an email. This way we can practice together.
Until then, be safe. Stay home. Use common sense. Wash your hands!!
Blessings,
Pastor Lory
---
We are still operating Monday through Friday for Meals on Wheels. We are also doing pick up meals for the public , if you would like to order a plate please call before 10 am to place your order. Pull up and we will bring it to you. $5 a plate.
---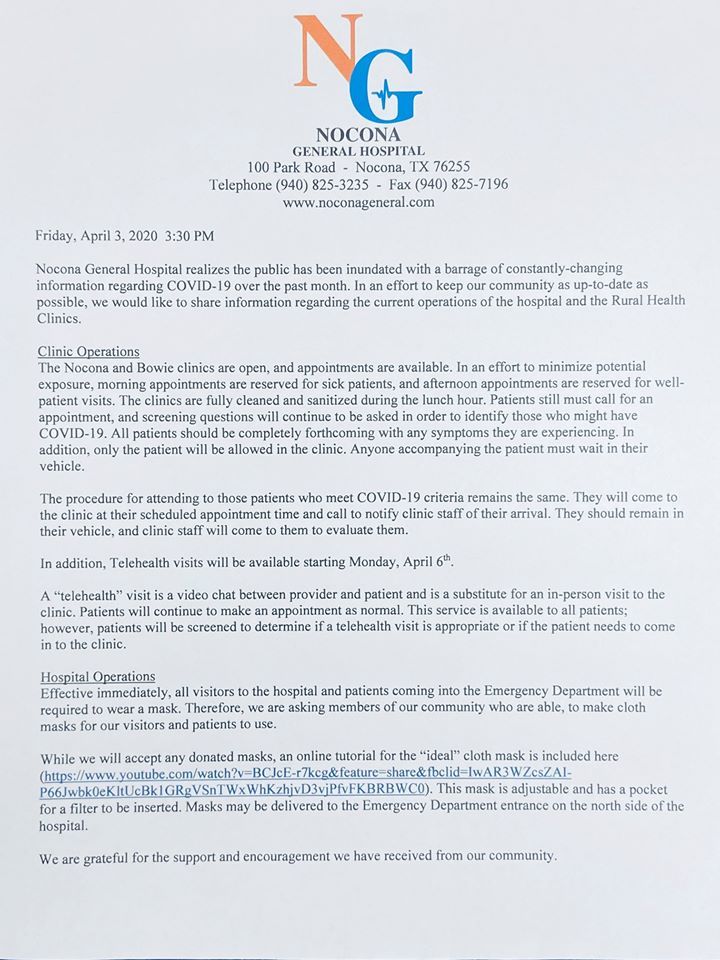 ---
Nocona Lucky Paws Animal Shelter
We have been working on the best way to operate shelter during this time. We will be there to take care of dogs and we are still responding to calls to pick up strays. If you are interested in adopting we are going to try to do that by appointment so we can bring the dog out to meet you rather than coming in the building. We disinfect daily and dogs do not carry the virus.
---
NEW SCHEDULE: Store showroom will ONLY be open by appointment. The shop will be staffed but you must call in advance for entry.
Thursday - Saturday 11-7. Sun - Wed. as available. Call (940) 995-2458 any time for info or appointments .
WE HAVE GUNS & AMMO.
If you are coming from the DFW area or Oklahoma, please call first to make sure we are open. We will work hard and make time to fill everyone's orders and give the best possible deal.
---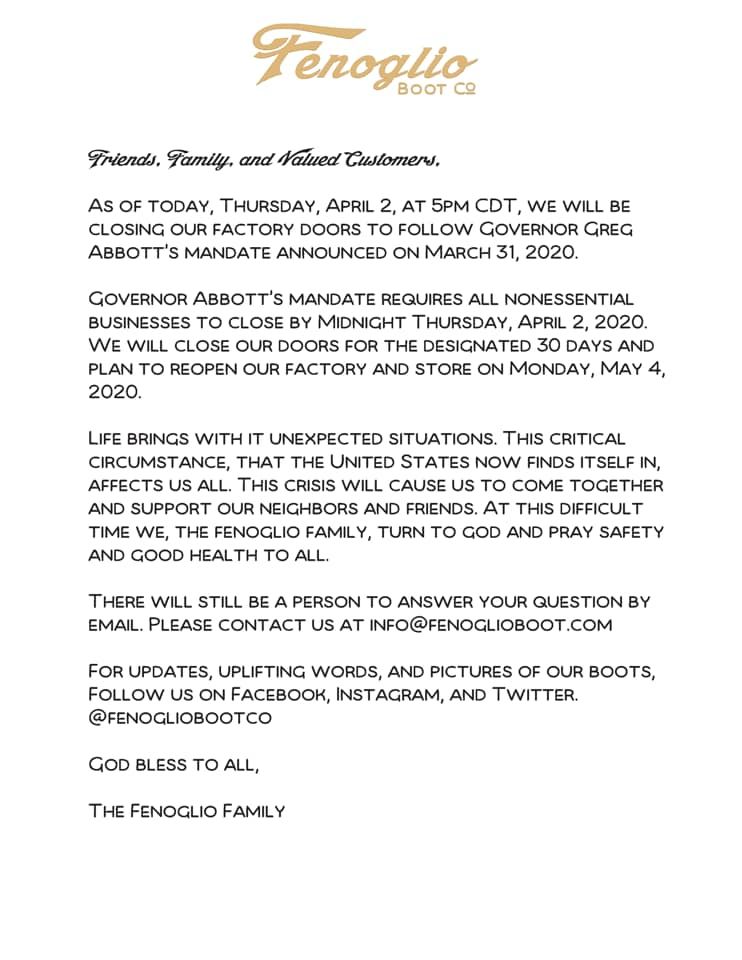 ---
---
April 18 at 11:57 AM
Beginning Monday April 20th, our doors will be back open to the public to pick up arrangements and gifts from our shop! We look forward to taking care of your Professional Administrative orders for this week and don't forget Mother's Day is just around the corner! Al Mother's Day orders received by 4/30 will be given a 15% discount! Call or come by for all your floral and gift needs!!
---
Wanted to share with all Car Clubs and Everyone that the Horton Classic Car Museum in Nocona,Tx. will be OPEN for all to come and visit us and check out all the classic cars we have. We will OPEN May 1st Friday our regular hours Monday thru Friday from 9:00am till 4:00pm. Saturdays 9:00am till 5:00pm. So if you all have been bored and couped up at home come and hang out with us here at the Horton Classic Car Museum. We look forward to seeing all of you.
---
---
We are happy to announce on Friday, we will be open for your dining pleasure. We want to thank you all for the continuous support you have giving us.
---
---
---
Davis & Blevins, The Main Street Gallery
We are thrilled to open our doors next Thursday, May 7, and we understand your concerns for safety. Let me assure you that we will follow the guidelines recommended by the CDC and Governor Abbott.
We appreciate your support of our online shop, your phone calls and your messages. We have missed you.
— Donna & the Gallery Girls
---
---
05/01/2020
TODAY is the day we have been waiting for. DINE IN is allowed. Trust me when we say this, we MISSED YOU & hope you missed us just as much. We need your support more than ever and can't wait to see your smiling faces through our doors again. Come see us!
---
05/05/2020
The Museum will reopen to the public on Monday, May 18th. We will resume our usual operating schedule - AND will be open Memorial Day, the 25th! We will strongly encourage the 6-feet social distance and the use of masks. We will have hand sanitizing stations located throughout the museum, and will require all guests and staff to either wash their hands or use hand sanitizer both upon entering and leaving the museum. Some of our exhibits will have to be viewed at a short distance, as we have closed some of our interactive exhibits. Unfortunately, we will not be able to entertain group tours at this time. If you have any questions about our operating procedures, please call us first! 940-825-5330.
---
---