Leather Goods
Since the beginning of the Texas Frontier, leather products provided a booming industry in Nocona. Cowboys needed boots, saddles, whips and other gear of their trade, and in 1879 H. J. Justin started making boots in Spanish Fort to supply cattle drovers heading north on the Chisholm Trail. When the railroad moved to Nocona, so did he, doing business as H.J. Justin and Sons. After his death, his sons moved to Fort Worth and started Justin Boot Company.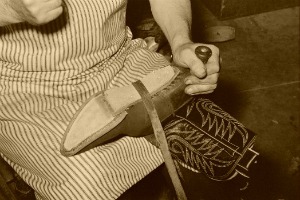 The Nocona Boot Company was founded by Miss Enid Justin in 1925, and produced boots that became a Texas legend. Even today, this heritage lives on in the Larry Mahan cowboy boot, Cavendar's Western Wear's signature boot, manufactured by Fenoglio Boot Company in Nocona.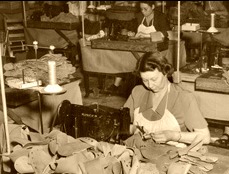 Nocona Leathergoods was established in 1926, making leather purses, wallets and other small leather products. In 1932 they reorganized under the name of Nokona and began making baseball gloves and footballs in 1934.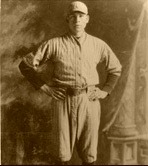 Nokona baseball gloves are still produced in Nocona. Each glove is carefully cut, stamped, stitched, and laced by hand. Factory tours, available Monday through Friday, offer a unique glimpse into this aspect of Nocona craftsmanship.
(Above photograph of boot-maker taken by Russell Lee in 1939 for the U.S. Farm Security Administration/Office of War Information, and is held in the Library of Congress Prints & Photographs Division in Washington D.C. The photograph of factory workers and R.E. Storey, first president of Nokona Leathergoods in 1932, are courtesy of Nokona Leathergoods)